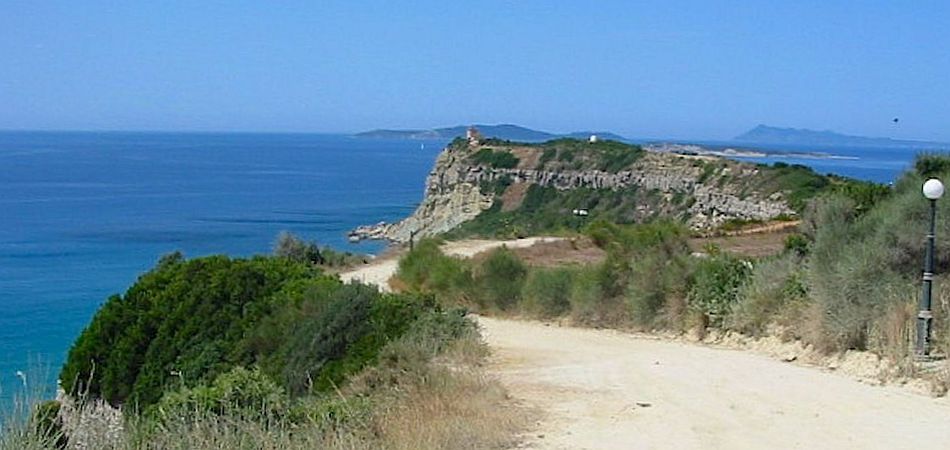 Walking in North West Corfu
When, in 2008, I went for an extended stay with friends in North West Corfu, I found myself entering almost virgin walking territory. The only bits I had explored were the 'classic' walks - Pirate's Cove from Afionas, and the headland between Arillas and Agios Stefanos (San Stefanos), plus - nearly ten years previously - a long inland hike led by a local resident, of which my memory was fragmentary. And of course the route of the Corfu Trail as it wends through the region. So during my stay I set out to explore every path and track, and then to assemble my findings into viable walks and hikes. The dogs were delighted!
North West Corfu Footpath Network
As a result, the North West area was the first region of Corfu where I applied a methodological approach to creating a footpath network, taking a section at a time, and drawing ever-expanding maps as an aide memoire. Nearly all the walks link with another at some point, making this a genuine footpath network.
North West Corfu Region
This region of Corfu stretches from the Arillas Headland in the west, as far as Agios Ioannis (Sidari) in the east. Its southernmost point is at Makrades, where it links with the Paleokastritsa area network (coming soon on this site!). Via the Corfu Trail, it links with the Pantokrator area, and thence with Acharavi and all of North and North East Corfu.
North West Corfu Walking Terrain
The region incorporates the tourist resorts of Sidari, Agios Stefanos (San Stefanos), Arillas and Agios Georgios, and the major villages of Avliotes, Peroulades, Magoulades, Pagi and Agros. The whole area is characterised by steep clay ridges interspersed with fertile valley floors, some narrow and some wide; all lush. The long ridges terminate in rocky promontories which plunge into the sea.
North West Corfu Walks
Because of the roller-coaster terrain, some of the walks in North West Corfu, even the relatively short ones, can be taxing, with steep climbs and descents. The walks in this guide range from an easy stroll on flat land along the riverbank near Sidari to a giant circuit of the mountains between Agios Georgios and Makrades, incorporating parts of the Corfu Trail.
North West Corfu Scenery
Out of the resorts, whether in the hills or on the plains, the scenery is rural. Even in Arillas, hayfields and acres of artichokes lie between the tourist accommodation. Most people, even those who work in tourism, still grow crops and tend animals. This is an older Corfu, one which you can enjoy on your walks in North West Corfu.
Purchasing Walking in North West Corfu
Walking in North West Corfu is on sale at a price of 7.50 euros. Payment has been set up via the secure and user-friendly PayPal system. As soon as your payment is verified, you will receive the pdf copy by email.

Updating Walking in North West Corfu
As a buyer of the book, your name and email address will be kept on record, and you will be sent FREE UPDATES on an annual basis or upon request, for three years after purchase. Changes may be necessary due to bulldozing of footpaths, asphalting of tracks or development, or they may be implemented when we find a more attractive trail. As a buyer of Walking in North West Corfu, you are asked to send us information about any changes you encounter on the walks by email (please read the notes on changes in the book).